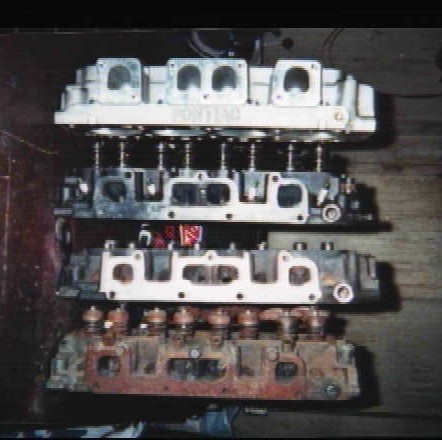 Exhaust port comparisons of:
SD-4 aluminum 801 head(top)
SD-4 early iron head.
Stock Fiero head
Stock Citation head.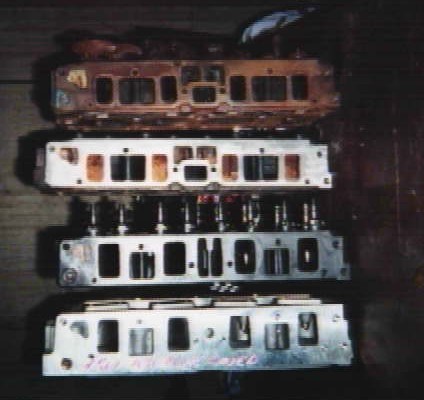 Intake port comparisons of:
Stock Citation head (Top)
Stock Fiero head
SD-4 early iron head.
SD-4 aluminum 801 head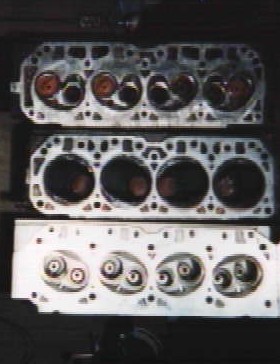 Intake port comparisons of:
Fiero head(top)
SD-4 early iron head.
SD-4 aluminum 801 head


| | |
| --- | --- |
| | Here is the bottom side of the 801 Superduty Head showing the combustion chambers and where the valves will go |
10049801-Super Duty four port special aluminum cyl. head:

This version of Pontiac's Super Duty four cylinder head's are designed for maximum-effort competition engines. The intake runners and water jackets are raised .670" to improve flow. In the Special High Port casting, the two center intake ports are moved .800" closer together to straighten the path to the valves. Both head's rocker cover rails are raised .300" and the exhaust ports are raised .600". The valv centerlines are relocated to unshroud the valves, and the rocker stud holes are moved to match the new valve locations. The valve seats will accept 1.94-2.08" intake valves and 1.60-1.625" exhaust valves. The combustion chamber volume is 67cc. TECHNICAL NOTES: Valve guides are supplied but not installed. A template is provided for redrilling headers to fit the revised exhaust flange bolt pattern. An intake manifold must be fabricated to fit the High Port Special's port spacing.:
10045437-Aluminum cylinder head This 2.5 special aluminum cylinder head is a race winning design for the four cylinder Pontiac Aluminum "Super Duty" that's proven itself in IMSA road racing and Competition Eliminator series. This rugged, lightweight head gives you Pontiac and NASCAR quality with plenty of extra metal, and proven performance with totally redesigned, super free-flowing ports. Oversize ductile iron seats and phosphorus bronze guides are standard. Intake volume is 178cc. This head accepts standard four-cylinder intake port centerline manifolds.:

347056-Four Cylnder Performance Head:
This cast-iron performance head is designed to be used on 151ci or 153ci 4 cylinder engines.:
10031322-Cast-Iron head W/O EGR
10031323-Cast-Iron head with EGR
---
Cosworth SD-4 Cylinder Head with Twin Cams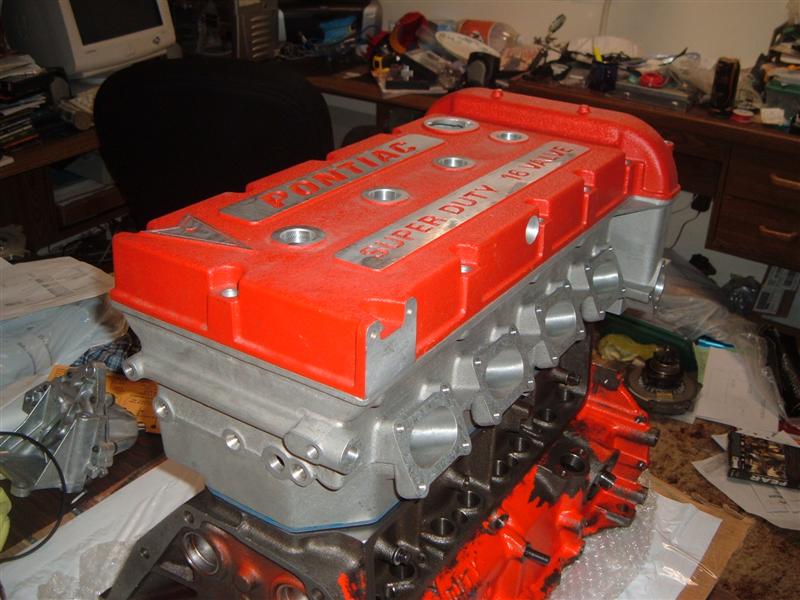 This is an EXTREMELY rare head (one pictured belongs to FastIndyFiero) that never saw use in production cars.
It is a DOHC 4 valve per cylinder head made by Cosworth for Pontiac racing.