Hosler's The Fiero SS Project
Everyone has their idea of the perfect car. Since the age of 11 I had wanted to build my own car from scratch. I was also a race nut and mid-engine fan from an early age growing up watching the Indy 500 in my home state of Indiana for as long as I can remember. After I became interested in Fiero's. It became quite clear that my "Home Built" car would be the highest performance Fiero I could build. I am pleased with the results and hopefully others are too. This project turned out to be a journey in itself, not a destination. Below is a short summary of some select highlights. For full details see my CarDomain web page: http://www.cardomain.com/ride/789315/1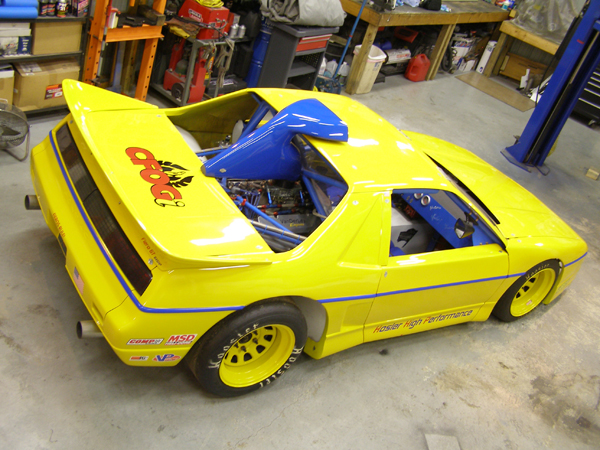 VEHICLE SUMMARY:
Performance:
- ¼ mile: 10.5 sec at 137 mph (est.)
- 0 to 100 mph: 5.2 sec. (est.)
- Top Speed: 215 mph (est.)
- VanDerLey 412 ci SBC with prototype Pontiac 867 heads. (1983 vintage)
- 645 hp at 6700 rpm 577 lb.-ft. torque at 5300 rpm 13.9:1 compression
- Holly 850 carb custom tuned and jetted by VanDerLey Engines (930 cfm)
- Callies Crank
- Comp Cam
- Solid 1.6 TD Rockers
- JE Pistons
- Carella Rods
- Dry sump oiling system with 3 gal. reservoir
- Accusump system (3 qt.)
- 1986 Porsche 930 4 speed transmission
- KEP 600+ lb.-ft. clutch, flywheel, and pressure plate
- Renegade Hybrids custom fabricated shift linkage
- Custom headers and exhaust
- Porsche 930 axles
- Fuel Safe custom fuel cell (15 gal.)
- MSD Box, coil, and distributor
- AFCO Radiator (custom)
- Fluidyne heat exchanger
- Dual Fuel Filters
- Ram Air Brake Ducts
- VP C12 Race Fuel
- Functional RAM AIR Roof Scoop Air Intake
Control:
- 23.5x11.5R16 Hoosier R45 compound race slicks (front)
- 25.0x12.0R16 Hoosier R45 compound race slicks (rear)
- Wilwood Superlite 2A 1.75 bore four piston calipers on 12.72"x1.25" 48 vane rotors (front)
- Porsche 930 4 piston calipers on 12.19" cross drilled rotors. (rear)
- Dual 7/8" master cylinders with brake bias control and gages.
- Appleton 2.0 rack and pinion
- Custom build suspension by E.J. Trivette (original IMSA Fiero fabricator)
- Removable steering wheel
- Adjustable throttle position control
Safety:
- 6 point harness with cam-loc and 3" wide belts (driver and passenger)
- Kill switch (internal and external)
- Onboard 10 lb. fire system.
- Inertia fuel switch
- Window net
- Polycarbonate front (1/4") and rear (1/8") windshields
- Sparco Pro 2000 Seats
Show:
- Pontiac Fiero Prototype IMSA race shell.
- Corvette Millennium Yellow Paint
- Auto Meter Gages.
- Functional fiberglass door (DS)
- Custom interior sheet metal
- Custom front and rear clip fabrication
- Custom rear engine mounting (longitudinal)
- Passenger Seat
- G-Tech Pro
- Factory gearshift knob
- Factory tail lights
Body:
-Original Pontiac IMSA/Drag Car Prototype Body.
-"0001" prototype code verified by John Callies.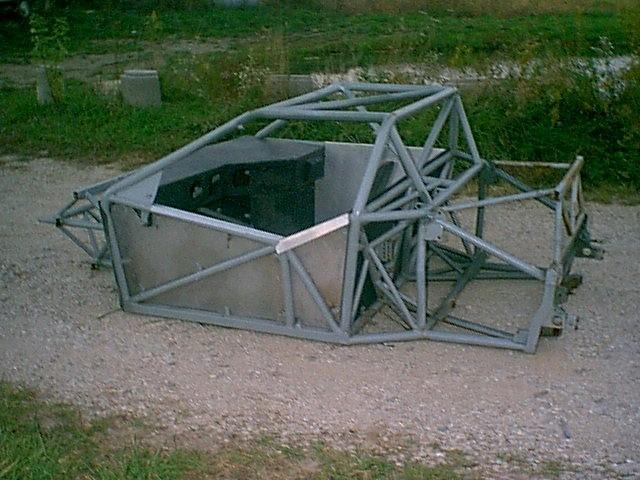 This is how it all started. A rusted, unfinished vocational school project, in the middle of a grassy field.

I was real proud of this heap! It looks rough, but I saw a finished car. I knew it was going to be a lot fo work, but I didn't realize how much until about 2 years later. Over the course of the last 6 years, (2001 to 2007) I would estimate that I have about 4000 hours of planning and physical labor in this beast.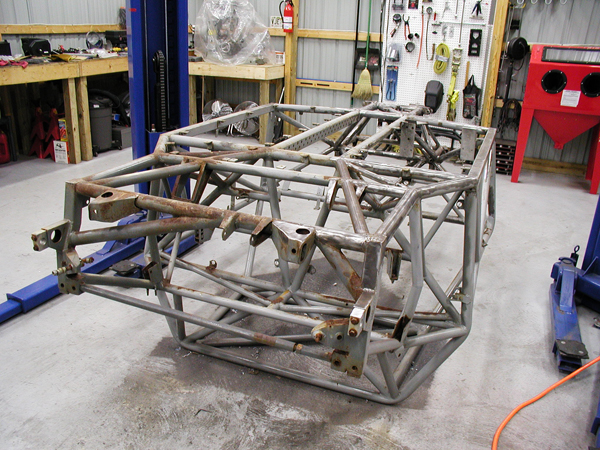 This is the frame upside down in my shop. I'm pretty clueless at this point. What have I gotten myself into!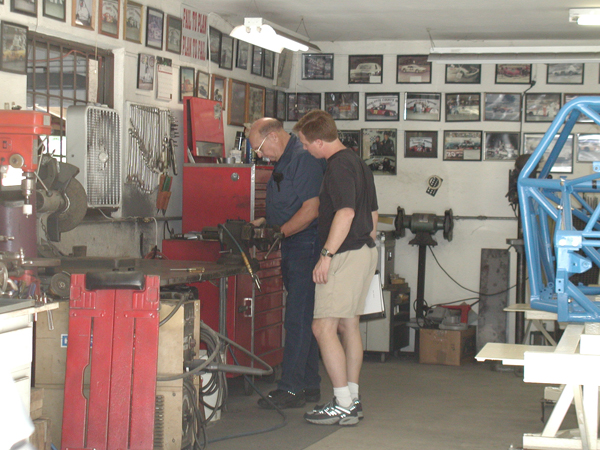 E.J. Trivette and I in his shop. My Fiero is the 7th IMSA Fiero Chassis he has fabricated. He was one of the original builders and is responsible for the design modification and setup of the First big win in IMSA. If you look real close you will see a picture of Clay Young's IMSA Fiero hanging on the wall. Clay and E.J. go way back. He was a good friend of his and brought his Fiero (before his first win) to E.J. for help.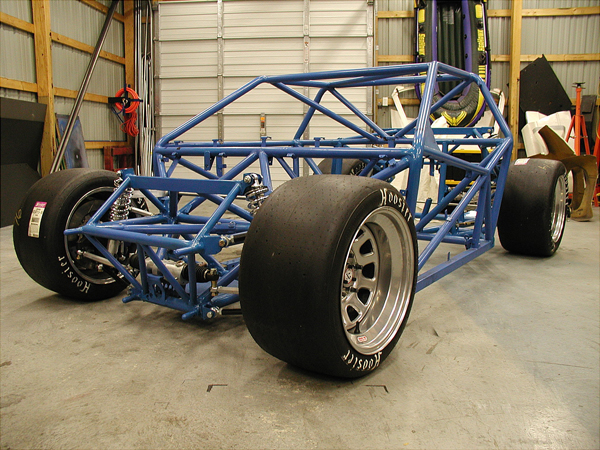 The rolling chassis sitting in my shop just after I picked it up from E.J.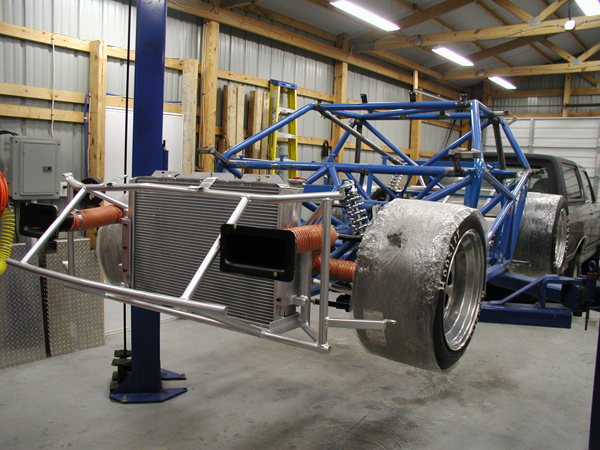 Forming the front clip. More difficult than it looks. It has to fit the body, radiator, ground, air ducts and be easy to remove all at the same time. And of course, no blue prints. Just pictures if I'm lucky.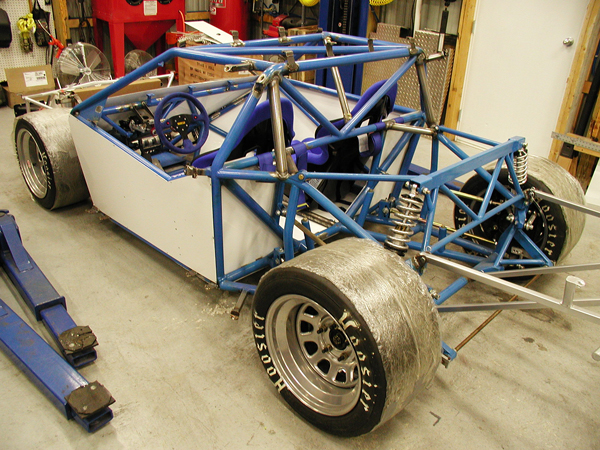 March of 2003: Progress is slow but steady. I am trying to get the car running for the 20th Anniversary Show in July. I think I can make it but there will be a lot of long days ahead.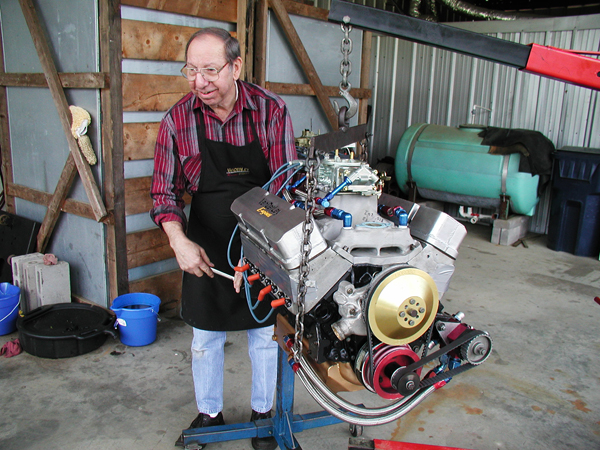 Here is the engine when picked it up from Paul Vanderley. This motor is the type that Pontiac used in Grand National racing at the same time the SD4 was being developed. Basically I have the 8 Cylinder version of the Pontiac race motor of the early to mid 80's. Paul built many engines for Pontiac over the years and has been running at the salt flats himself since 1956. He has held more than one speed record in a 34 coupe going 200+. Among his many wins over the years, he built the SD4 that won the 1987 24 Hours at Daytona in the GTP class. John Callies (Former head of Pontiac Motorsports) called Paul for me and asked if he had time to build a motor for me. After hearing about the project, he said yes. This motor has prototype Pontiac 867 heads that have turned 195 mph at Daytona. Due to this, even with a Chevy block, technically my car is Pontiac Powered. He had the valve covers made just for my car to clear the firewall. He said that I was the first to get "Vanderlay" valve covers after 40 years of engine building. Other customers asked for them after seeing mine.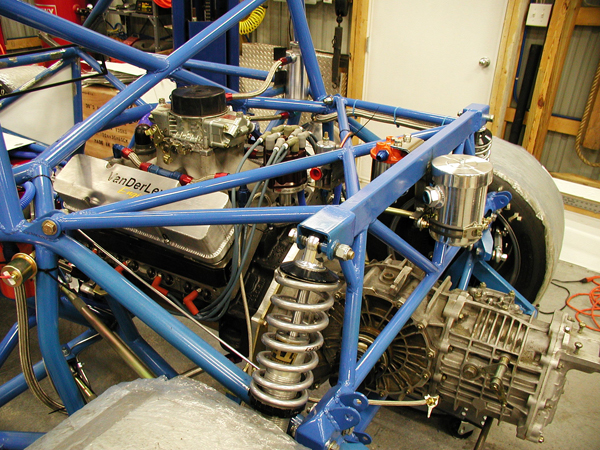 The business end. 645 crank HP. 2400 lbs of car/driver. You do the math.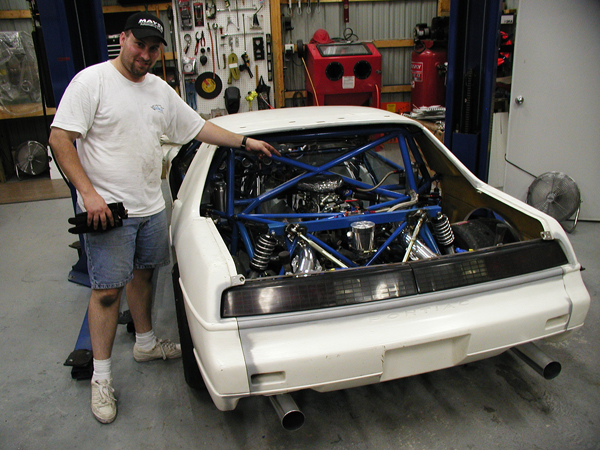 9 PM after working all day. Dana (pictured), Mark, and I prepped the car for its first running. Finally that night, she came to life. We were all bouncing off the walls. It looked like a Fiero, but sounded like a Winston Cup Car.
My first track day. What a blast.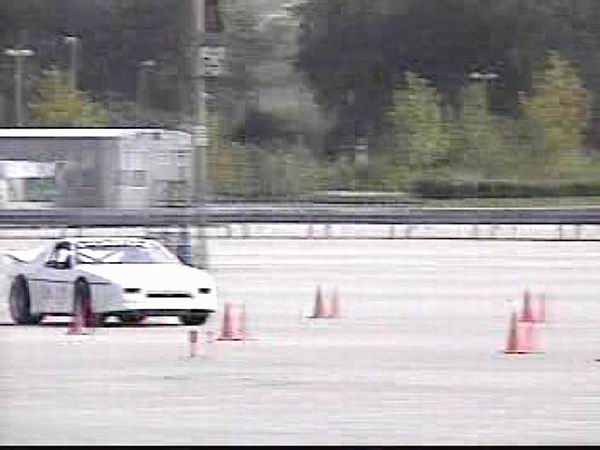 My first autocross with this car. Notice the nose lifting. Yes, the car was pulling that hard!


Not being happy (my typical self) I rebuild the car. Painted the chassis, painted the frame, remade all of the front fire wall pieces, and tons of other things.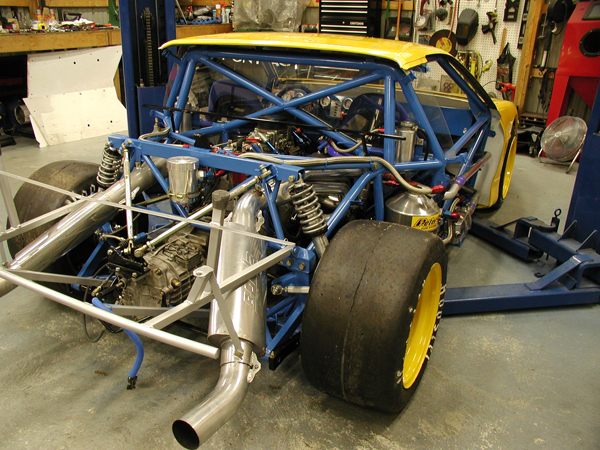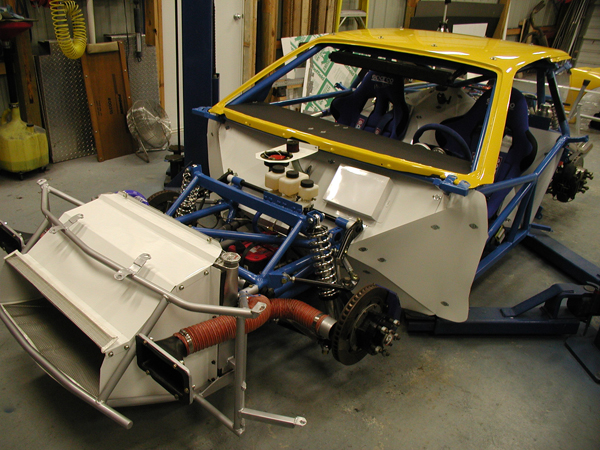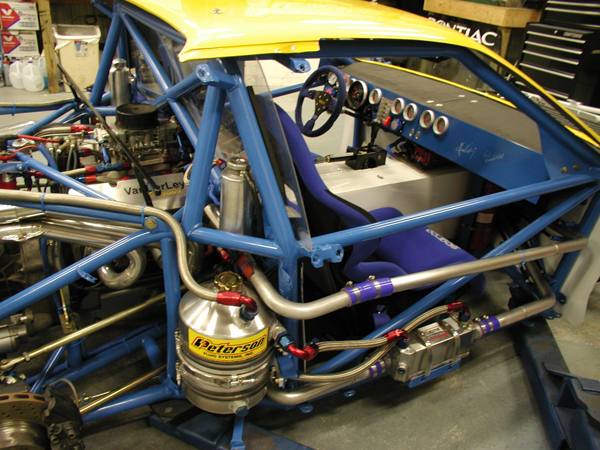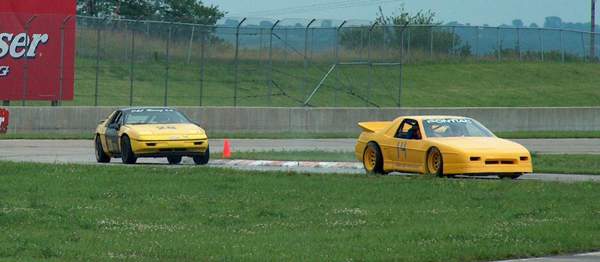 Here is the (never) finished product on the track....